Meditation Vipassana – A Mindful and Soulful Experience
My Journey of 10 days residential course on Vipassana Meditation – Dhamma.
Sometimes the universe shows us the signs and brings forward some avenues, nagging us to pursue those roads. However, due to different reasons—busy life, deadline-based jobs, unapproved leaves, fears, doubts, stop us from pursuing roads worth walking at least once.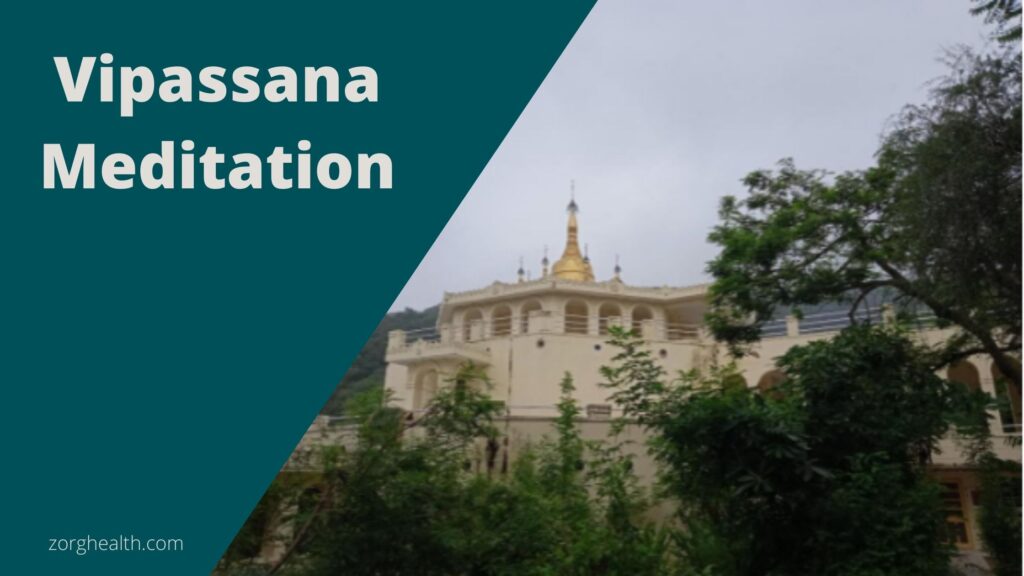 One such road was mine. Road to pursue Vipassana meditation through the 10 days course. Instead of ignoring those signs and inner callings, I heard them and decided to go for it, see for myself what it was trying to tell me. You never know what those inner callings are unless one experiences them. Thus, it was a good enough reason for me to be worth giving a good try and put myself into action and take up the rigorous 10 days Vipassana meditation course.
How I came to know about meditation Vipassana
Vipassana is one of India's most ancient techniques of meditation, by simply observing the flow of breath. The entire practice is actually mental training. Just as through physical exercises, we improve our bodily health, similarly, Vipassana helps to develop a healthy mind.
However, when I came across the idea of pursuing a 10 days course on Vipassana meditation, I wasn't aware of what it is and what it takes, and if it's worth my attention, time, and effort.
One distant friend of mine randomly mentioned it in our usual conversation and suggested I go for it at least once in my life. Since the thought of 10 days course meant, asking for 10 days' leave from my demanding work (and a boss who won't approve such long leaves), so neither I paid much attention to it nor tried to find out more information from my friend's experience. All I could recollect from that old conversation was the long duration of the course and that she finished not just 1 course but 5 such courses of 10 days. In fact, she also finished 25 days course and volunteered (gave Seva as they call it) as well. Admirable yes!
The seed was planted that time in me and sprouted within a year to pursue it and add to the list of "my unique life experiences".
How I came to my decision to pursue the 10 days residential course
Post corona, with the mental state I have been in, and the constant thought to take a break from work, again brought that idea of my friend to try to take the course. I realized that it is a good time to go for the course now. In fact, it seemed the best time to do it, longing for a break from—city, routine, work, people, technology, and regular patterns of my thinking.
So, one day, I just logged into their website and briefly scrolled through the key details. The introductory lines in the website caught my attention, it says "to accept things as they are", "art of living", "eradication of mental impurities", "freeing oneself from suffering".  The website also highlighted that during the course one has to strictly adhere to some moral code of conduct i.e to abstain from killing, stealing, sexual activity, speaking falsely, and intoxicants.
Also, the explanation around the Vipassana meditation technique and the philosophy around it intrigued me enough to dig deeper into it and see for myself what it is all about.
What was the daily schedule at Meditation Vipassana?
Here is the version of the daily schedule:
With the daily schedule of the 10 days course and information I found on their website, I analyzed and marinated the following decision-making points to pursue the course or not in my mind for the next 2-3 days:
10 days course, non-stop (one can't leave the course in between unless medical situation)
Free of cost for the entire period, it runs on donation (a good decision-making point for me)
Only 2 meals (breakfast at 6:30 am / 11 am lunch/5:30 pm tea and rice puffs) (no dinner yes!!)
12 hours total meditation. (You heard it right!!)
No interaction with other students, only if required with volunteers (being an introvert, this wasn't an issue for me)
Single occupancy rooms (though some other centers have double occupancy too)
No communication with the outside world (no mobile, no laptop)
Can't carry any reading materials (books or kindle)
Jaipur center location in the middle of two small hills and forest (a good temptation being a nature lover)
How I decided which Vipassana center to visit
Among the thousands of global centers, the Igatpuri center, in Maharashtra is the most picked one. Being a nature lover, I wanted to combine my inclination for nature with meditation, therefore, I was specifically looking for centers close by to Delhi (which needs overnight train/bus travel).
My first preference was to apply for Dehradun and Dharamshala centers but due to corona, these centers weren't operational.
Thus, I opted for the Jaipur center, since it made sense from Delhi, where I am located. Also, with the ongoing uncertain corona situation, I wanted to avoid flight/hotel cancellation charges so I thought a center nearest to Delhi will be best suited with less risk if things turn last moment.
How I reached the Vipassana Centre, Jaipur
To avoid the expense of a one-night hotel in Jaipur, I decided to take the Ajmer Shatabdi express train which takes 4.5 hrs to reach Jaipur so by 11 am I was already at the Jaipur station.
Since the Jaipur center had already shared the detailed information on the different modes of transport to reach the center, as well as, the cost and route to follow, I had a good idea that taking an auto suited me the most and thus bargained fare at Rs 250 (300-350 average auto fare, takes 20min to reach).
From my travel experience, I have the habit to pay attention to the route and if any popular eatery comes on the same route. Since I knew coming 10 days I will be around very simple food (and less food), I found the famous Lassiwalla and Kachori walla (Rawat Kachori near the station) and had my breakfast on the way itself, as best wishes from god.
How was my First Day at the center
After crossing through the jammed city and slowly merging into the isolated hills of the forests, I saw the main gate of the entrance. On the big table, many students like me, men and women (both in parallel courses and separate areas) were busy filling out the forms again and rushing through multiple tables to confirm their allocation.
At one table I collected and deposited the form, another table grilled me with some questions to confirm my seriousness to take up and finish this course or run away within three days. Passing through these tables, I was guided to deposit all my belongings including mobile, snacks, wallet, jewellery, and any religious ornament.
Knowing I won't have access to mobile for 10 days, like many others, I made the last call before depositing my mobile. Finally, I got a pink color card stating my room number and dedicated seat number in the mess.
Big boards showing pictures and information on Vipassana meditation welcomed all. The schedule in big fonts showed me the way to my room.
In the Jaipur center, there is a clear demarcation of men and women accommodations who are not supposed to have any interaction these days. There are many family members (husband and wife/mother-in-law and daughter in law etc) who take such courses in the same batch but need to maintain the same code of discipline (no interaction, separate accommodation).
Once I landed up in my room, I noticed cleaned or not so cleaned rooms. We got around 2-3 hours to settle in before joining the evening session at the mess. The mess had a big loudspeaker through which we heard a voice giving the instructions (on schedule, do's, and don'ts). It's in the mess we all noticed each other, a group of about 60 women (across age) in the same batch.
Post evening tea, we were instructed to gather in the main meditation hall area and were given the dedicated seat numbers on the floor to follow in the entire period.
We were guided on the process of meditation, but with hardly any focus on meditation, with my tiredness, I was just waiting for this to get done so that I can go to my room and rest. It was 10 pm by the time we were back in our rooms with questions and anxiety in my mind for the days ahead.
I forced myself to hit the bed. With hardly any sleep, it was 4 am and time to get started with the day ahead.
How was my Third Day at the center
The first three days went to understand how the whole thing works, how one accommodates with the schedule, how much physical pain one can ensure sitting on the floor in a similar position for 12 hours, and how this sudden change in life and schedule affects you mentally, questioning you "why am I doing this?".
Many leave in these 3-4 days, who can't cope up or change their minds with the process involved. But by the third or fourth day, the fight is maximum within. If one crosses this stage, for many ones settles the thought to complete the course.
For me, the fight wasn't over, almost daily I fought, almost daily I wanted to leave, almost daily I was frustrated, almost daily I was in physical and mental pain.
How was my Last Day at the center
The same schedule follows even on the last day, barring one sudden change, the silence breaks, and one is allowed to talk with everyone for 3-4 hours (except in meditation hall).
This sudden change feels weird after 9 days of total silence with 60 students all around you all the time but not once one exchanges words nor any gestures (there are of course some exceptions who don't always follow the code).
Since most day goes in meditation, one gets 2-3 hours in the day to interact. For me, it was difficult to start the conversation all of a sudden, and initially, I went to my room to calm myself. Being an introvert it wasn't easy to go and talk to strangers, but eventually while in the mess eating or doing some things together (like cleaning the meditation hall, the pagoda, the pillow covers, etc), one lands up briefly knowing about each other. Once the day is over at 9:30 pm, most catch up in rooms till midnight and exchange their experiences and phone numbers.
Knowing one again has to get up at 4 am for the final meditation session till 6:30 am, still, most people seem to continue their exchanges and commit to be there for the 11th  day morning meditation session and leave for their respective destinations after 7 am.
What was my motivation to NOT QUIT and finish the entire course of 10 days?
In the entire period of my stay, I asked myself the following key questions and fought my every day in the course:
This is a unique experience, and I might not do it again.
I might not get 10 days to leave again, so take it as an opportunity.
One of my key objectives to take up this course was to learn a meditation technique which otherwise I was not making effort to learn, so go through it and learn the technique, as is, how it's meant.
The course is free of cost, so there is no stress to lose money.
Going outside, not many exciting people/things are waiting for me.
Such a course amidst forests and hills, admiring nature and hearing the chirping of birds. The daily 30min break around the small park overlooking hills, forests, peacocks felt calming.
I have lived with physical pain before (during recent surgery), and I live through mental pain all the time, so endure this too
The looking forward movement of daily 1-hour pravachan by the teacher through the video (rest of the day/course is all audio) and if any philosophical line by him gives me food for thought.
At the end of 11 days, I will get a treat and will get to see Jaipur again for 2 days to relax and eat well.
What are my reflections and key takeaways from this experience?
Looking back, I feel it was definitely a unique experience, not all get to experience it. It is difficult, yes, but one really wants to finish the line, one can. It all depends on why you want to finish it and what your call from life is. It is each to own experience and they only know what they benefited from this entire experience.
For some, it can be immediate, for some the benefits are physical relief from old physical pains, for some the philosophy did life-changing wonders to them, for some its happiness out of the relieve the course if over and that they did it and for some like me they pick the techniques and are open to see what benefit really comes to them in future.
I found it each to own experience and it depends from person to person. In the short few hours interaction with peers doesn't always give you the real idea of why they took the course and what they gained out of it and how much of what they said was true or false. It's important, you know what you gained and what you are feeling, and how you want to take the meditation technique up along with the philosophy.
Did I have any quitting moments at Meditation Vipassana?
Of course yes! Many times.
On the fourth day, I wanted to QUIT!. Yes, I am serious. The desperation was so bad, that I went to my teacher at the end of the day and shared what was going on in my head and I want to pack up and leave.
Somehow, for the physical pain, I took a backrest seat as suggested by the teacher. But for the mental fight, it's your own battle. You can discuss it with the teacher but me being an introvert sharing those thoughts wasn't easy so I chose to reflect on the night and questioned myself why I actually took this course and what I am gaining/losing out of this. I thought of all those peers who although looked composed on the outside (but they were fighting too inside as it got revealed on the last day) were a big motivation for me to stay back and trust their journey and motivation to finish the line.
I believe some benefits are not visible in a 10 days meditation course, there is no magic wand, one waits for that to reveal in the life ahead. Finishing the course was a feel-good factor and definitely adds to my achievements. And this achievement you share with others on the last day, as you know they had their own battle too but still, they made it too, just like you did.
Helpful tips for you, in case you also want to take up the 10 days course
Trust that you can start and finish this course, irrespective of all emotions you will go through. When you will feel low, look around your peers especially the older women who are also going through the same rigorous schedule and still so disciplined and composed.
Be clear about why you want to do the course. Clarity helps to keep yourself motivated and stay focussed during those disturbing and frustrating moments when one feels to quit.
Be open to the experiences ahead. Making preconceived notions and judging the technique before or in between the course won't help. Give it a fair shot, then accept or reject it in your head.
Life won't give you many opportunities to go through this unique experience. So, make the most of it, be it the extensive meditation time, listening to your inner callings while going it, don't have aversion to things you might not like, it's all temporary anyway.
Be sincere and committed to the instructions given and follow the code of discipline. Have no regrets later that you didn't do something that was asked of you at that time.
Don't torture your body. If anytime you feel you are torturing your body (constant sitting for hours and days give backache in the initial days) physically or mentally, raise your concern with the teacher in the daily personal interaction sessions. Don't live with thoughts for days that can be clarified before and be at peace.
On the last day, whether an extrovert or introvert, try to interact with peers and listen to their journey in this course. It helps to understand and relate with them and their motivation to continue this course. You might make a few good friends too!
To reach the center, take the Rani Bagh route to reach the Vipassana Centre gate near Galta Ji temple. Else one lands upon the longer route to reach the center.
Once you finish the course, keep 2-3 days to go around exploring Jaipur city, starting at the nearby Galta Ji temple.
Informative Links about Meditation Vipassana