Diabetes mellitus, popularly known as diabetes is very common worldwide, to an extent that its prevalence has increased from 4.7% (1980) to 9.3% (2019). Diabetes is a disease of wealthy people, it's more common in high-income than low-income and more prevalent in urban than rural areas. In this article, we discuss what is diabetes, early symptoms of diabetes and also compare type 1 diabetes vs type 2 diabetes-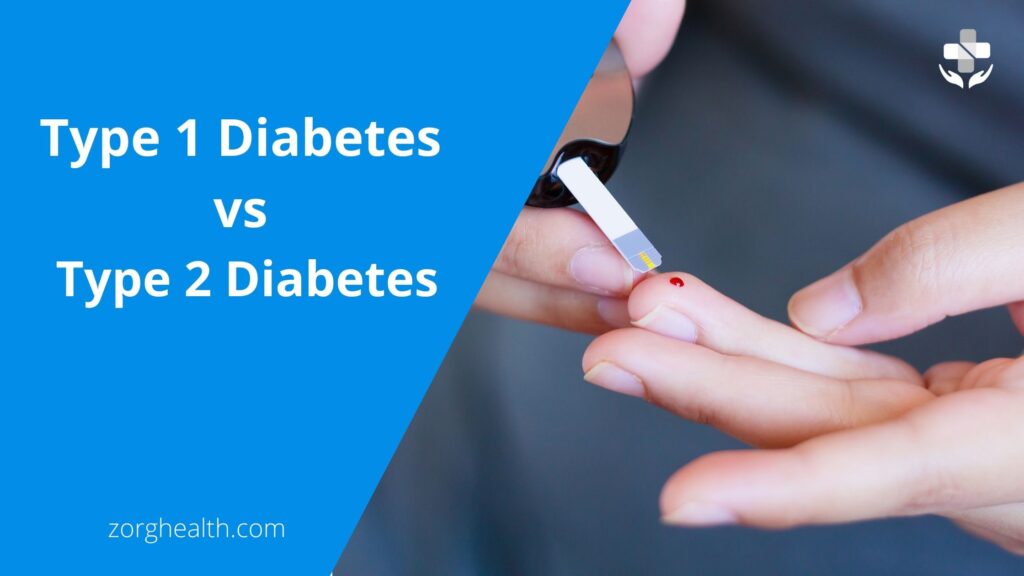 Type 1 Diabetes vs Type 2 Diabetes TOC:
What is Diabetes?
Diabetes is a type of metabolic disorder in which the body has high blood sugar levels for a long duration due to problems in insulin production or its utilization. This happens either due to the pancreas not producing sufficient insulin or the body not capable of utilizing it. Insulin helps glucose from food get into your cells for energy production but when that doesn't happen glucose will stay in the blood for a longer duration and can cause serious health issues.
Types of diabetes: Type 1 Diabetes Vs Type 2 Diabetes?
There are 3 most common types of diabetes-
Type 1 or Diabetes Insipidus or non-insulin-dependent or adult-onset

Type 2 or Diabetes mellitus or insulin-dependent or juvenile-onset.

Gestational Diabetes
Type 1 Diabetes-
This type of body (pancreas) doesn't produce enough insulin or no insulin at all. This happens because of an auto-destruct of pancreas cells by the body's own immune system. Although it can manifest at any age but is usually diagnosed in children. In this type, the patient has to take insulin daily from outside.
Type 2 Diabetes-
Your body not producing enough insulin or body cell not utilizing it both or any may be the reason here. Type 2 diabetes can appear at any age even in younger adults or children but is more common in adults in their 40s. this is the commonest among all three.
Gestational diabetes-
As the name suggests this develops during pregnancy and usually goes away after childbirth. Sometimes diabetes during pregnancy can also be referred to as type 2, even if not there are more chances of developing type 2 in the future.
Other less common types are – 'inherited diabetes', cystic fibrosis-related diabetes, borderline diabetes. There are two other intermediate conditions between normality and diabetes, IGT (impaired glucose tolerance) and IFG (impaired fasting glycemia). Prediabetes levels mean that blood sugar is higher than the normal limit but not touching the limit to declare diabetic.
Why diabetes is dangerous and what hazards it can cause?
From 2000 to 2016 there has been a 5% rise in prematurity mortality resulting from diabetes. Its prevalence has been rising very rapidly in low-income countries as well. Diabetes has been a major cause of damage to nerves and blood vessels, organ failures, heart attacks, strokes, blindness, and foot/leg amputation.
WHO estimated that diabetes was 7th among the leading causes of death in 2016, causing almost half of the death due to raised blood glucose before the age of 70 years and is responsible for 2.6% of global blindness.
Diabetes can lead to various problems like-
Over the period time, uncontrolled diabetes frequently damages nerves, eyes, kidneys, heart, and blood vessels. The risk of heart attacks and strokes increases to 2-3 folds with uncontrolled diabetes. There happens damage to nerves as well (diabetic neuropathy) which can lead to reduced hearing.
Neuropathy combined with compromised blood flow due to peripheral vascular disease leads to foot ulcers which become numb and prone to repeated trauma due to carelessness further their healing gets slow due to reduced blood supply.
Other long-term effects are-
Nerve damage and impaired blood circulation.

Kidney damage

Strokes

Vision-related issues, diabetic retinopathy

Dental problems

Alzheimer's disease

Depression
Apart from the above-mentioned long-term complications conditions diabetes can also result in other more dangerous sudden onset complications like diabetic ketoacidosis and hyperosmolar hyperglycemic state. A mother with gestational diabetes can also develop preeclampsia, which is a life-threatening condition characterized by very high blood pressure, excess protein breakdown, and swelling of the hands and feet.
Other complications which can occur in the baby of gestational diabetes mothers are – excess growth of baby, low blood glucose in newborn, and rarely even death.
What are the risk factors involved in type 1 diabetes vs type 2 diabetes?
Different types of diabetes have different risk factors.
Risk Factors for type1 diabetes are –
Familial tendency-one may have more chances of developing diabetes if there is a history of the same in parents or siblings. Also, autoantibodies are also considered as a risk factor, if these antibodies are present then there are higher chances of developing diabetes

Infections and environmental factors- there may be some role of viral illnesses in type 1 diabetes.

Geographical distribution- few countries which are away from the equator, Finland, Sweden, Saudi Arabia, and Norway have a higher prevalence of type 1 diabetes.

Age- despite the fact that diabetes can appear at any age type 1 diabetes has two noticeable peaks, first in children between 4-7 years and second in the age group between 10-14 years.
Risk factors for type 2 diabetes are –
Bodyweight, waist circumference, high bad cholesterols, poor eating habits are all well-known risks for developing diabetes however there are other factors too which you should know-
Inactivity-being active not only keeps our weight under control but also utilizes glucose making our cells more responsive to insulin. Inactivity increases the chances of developing diabetes.

Genetics-you may have a higher risk for diabetes if you have a history of diabetes in your parents or siblings.

Age- the risk of developing diabetes increases with age.

Race / Ethnicity- although not clear till now, some races, black, American Indian, Asian American tend to have a higher risk than others.

Abnormal blood pressure- high blood pressure over 140/90 mm Hg (millimeters of mercury) has been associated with a high risk of developing type 2 diabetes.

Gestational diabetes- developing diabetes during pregnancy adds to the risk of prediabetes and type 2 diabetes, also studies show that if one gave birth to a baby weighing more than 4 kilograms (kg) has an increased risk of developing type 2 diabetes.

Polycystic ovary syndrome (PCOS)-is a common condition among females marked by irregular menstrual periods, excess hair growth, and weight gain. It has been observed that these females are at high risk for diabetes.
What are the Early Symptoms of diabetes?
There are signs and symptoms having knowledge of which might warn you about the early onset of diabetes. Although some may not experience them, especially in type 2 and prediabetics but in type 1 diabetes symptoms tend to appear quickly, usually at a younger age, and be more severe if treatment doesn't start in time. As diabetes is a condition of raised blood sugar levels symptoms and their severity also varies according to levels of sugar in the blood.
Signs and symptoms of diabetes are-
Feeling thirsty.

Frequent/repeated urination

Hunger

Despite the adequate diet, unexplained weight loss

Constant fatigue 

Irritated mood

Vision disturbances/ blurred vision

Foot/leg ulcers which usually go unnoticed because of numbness

Frequent bodily infections like skin and gum infections take longer than usual to heal despite treatment

On testing, there may be the presence of ketones in urine which indicates a breakdown of muscle and fat in absence of sufficient insulin.
Causes of Type 1 Diabetes vs Type 2 Diabetes
After knowing the risks and how diabetes presents itself, you may ask yourself why does it happen? Although the exact causes are still unclear there are some well-known factors –
Cause of type 1 diabetes-
One of the known causes of type 1 diabetes is that our own immune system destroys insulin-producing cells of the pancreas, resulting in insufficient insulin for glucose uptake into cells, resulting in high sugar levels in the bloodstream. Other may be some environmental factors (still not very much clear), which when combined with genetic susceptibility will have more chances of developing type 1 diabetes.
Cause of type 2 diabetes-
One strongly linked factor for type 2 diabetes is being overweight. Genetic susceptibility and environmental factors may play a role here too. In this type rather than the destruction of insulin-producing cells there is resistance to the action of insulin resulting in decreased uptake of sugar by cells resulting in high blood sugar levels. The same factors are responsible for prediabetes as well.
Cause of gestational diabetes-
During pregnancy there are a few hormones released from the placenta which are important to developing the embryo, these hormones are said to be responsible for making body cells resistant to insulin. When sometimes the pancreas is not sufficient to keep up with the increased demand for insulin to overcome resistance one develops gestational diabetes.
There is another type as well "pregestational diabetes" when women who have had diabetes before they conceived and carried it further. According to a survey, almost half of women with gestational diabetes develop type 2 diabetes within 10 years of labor. Women diagnosed with pre-gestational or gestational diabetes need strict monitoring to avoid complications. 

How to diagnose diabetes?
Apart from the above-mentioned signs and symptoms, your doctor may advise some tests to get done-
Oral glucose tolerance test- once used to be a gold standard test for diagnosing type 2 diabetes, but now mostly used for diagnosing or ruling out chances of gestational diabetes.
HbA1c- also called glycosylated hemoglobin is commonly used nowadays to diagnose prediabetes or diabetes. In simple language it helps in showing the blood sugar average over the last 2-3 months, indicating whether blood sugar levels were under control or not.
Urine test- above normal levels of sugar or ketone also indicate raised blood sugar.

Other tests are fasting and post-meal blood sugar levels and kidney function tests.
How to manage diabetes?
As well understood by now that diabetes is a metabolic disorder, blood sugar control is the most important factor for its management. People with diabetes need to check their blood glucose levels regularly so as to know about the management plan. Also, occasional low blood glucose levels can also happen when their body cells don't get enough glucose for energy production.
Diet and exercise-
The first and foremost important piece of advice for diabetics is to improve/change lifestyle, by being more active and reducing weight. Have a more regular and disciplined daily schedule. You may take help/advice from a nutritionist.
Here are a few tips –
Include more fresh fruits, leafy vegetables, low-fat dairy, nuts, and whole grains in your diet.

Avoid too oily, sweet, processed food. Avoid junk food, carbonated drinks, alcohol.

Be regular with exercise, at least 30 mins of daily exercise for a minimum of 5 days a week is advised.

Set a goal for slow and steady weight loss and know how to recognize signs of blood sugar fluctuation.
Medications-
For diabetes, your treating doctor depending upon the type and severity of your disease will advise tablets or insulin preparations. 
Tips for type 1 diabetes-
Insulin preparations remain the mainstay for the treatment of type 1 diabetes. As per the duration of action needed four types of insulin preparations can be used-
Rapid-acting insulin starts the action in 15 minutes and the effect can last for up to 4 hours.

Short-acting insulin starts work in 30 minutes and the effect can last till 8 hours.

Intermediate-acting insulin takes 1-2 for the onset of action but has a lasting effect for up to 18 hours.

Long-acting insulin might take more than an hour for showing its effect and it lasts for up to 24 hours.
For type 2 diabetes-
As suggested by physicians' diet and exercise will and should be the first mode of treatment. Even if an improved lifestyle is not enough to lower blood sugar levels then medicines are given. Oral medications are of different types and are categorized according to their mechanism of action-
Drugs that slow down the speed of breakdown of sugar in cells. E.g., acarbose and miglitol.

Drugs that reduce glucose production from liver cells. E.g., metformin.

Drugs that control your blood sugar levels near normal without letting it drop too low below normal. E.g., linagliptin, saxagliptin, sitagliptin.

Drugs modify the way of insulin production. E.g., dulaglutide, exenatide, liraglutide.

Drugs stimulate the pancreas to produce insulin. E.g., Meglitinides (nateglinide, repaglinide) and Sulfonylureas (glyburide, glipizide, glimepiride).

Drugs lowering blood glucose by releasing it into the urine. E.g., canagliflozin, dapagliflozin.

Drugs help insulin molecules to work efficiently. E.g., pioglitazone, rosiglitazone.
What can be done to prevent diabetes?
As discussed earlier when the immune system is the cause, diabetes can't be prevented because a few factors like genes we inherit and age are not under our control. However, type 2 diabetes can be prevented as per studies conducted.
Simple and small steps toward a better lifestyle and dietary modifications might prove very effective in controlling the risk factors and sometimes even reversing the chances of developing diabetes-
Exercise- aerobic exercises are the best for a healthy active body and also to avoid being overweight or obese. 30 mins of brisk walk or cycling for at least 5 days per week is good enough.
Diet- as already mentioned earlier have a healthy diet eat more raw fruits and vegetables, say no to oily, sweet, junk, deep-fried, baked, high-sodium, and high-fat dairy items, stay away from alcohol, and carbonated drinks. Although your physician may allow alcohol in small amounts.  Also, rather than 2-3 heavy meals divide them into smaller and more frequent ones.

Avoid smoking.

If you have hypertension (high blood pressure) keep a watch over it and regularly take follow up with your physician.

Set your goal for healthy body weight and keep it maintained.
Regular exercise, a healthy weight, and good nutrition are the main steps to avoid developing diabetes. Also, merely following the advice is not always enough to please monitor your blood sugar levels on regular basis to see whether the measures you have been taking are effective or not.