Now when the world was waiting for a covid free 2022, here comes another variant of concern from South Africa. A new SARS CoV -2 variant named OMICRON has been detected in November 2021 and has been designated as a "variant of concern" (VOC) by WHO because this new variant has multiple mutations and to what extent it can be harmful is being studied. The mutation is the change in DNA sequencing when one DNA is being copied and these changes are carried forward to the next generation where they can change the characteristics of the new DNA.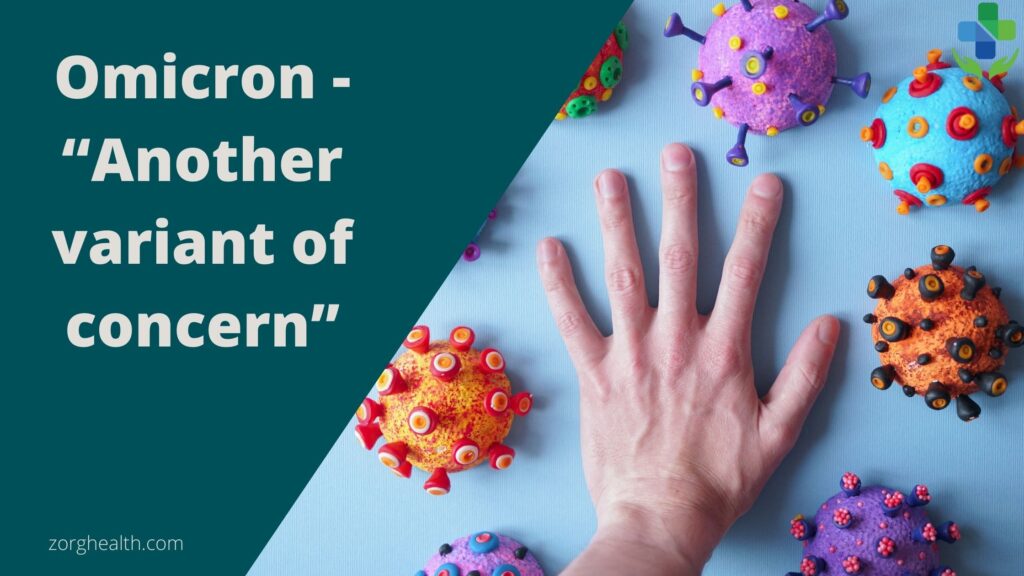 What is Mutation?
The mutation is a constant process and the new viruses may persist or die with time. Any newly mutated virus is designated a "variant of concern" when the virus has gained new characteristics like faster transmissibility, increased disease severity, the lesser effect of therapy or vaccine on the virus, etc.
Many mutated covid-19 have been reported since December 2020. Till now the most dangerous mutation was the "Delta Variant" identified first in India. The severity of the disease was more with the Delta variant. But the omicron is being said to be even more dangerous as it has multiple mutations. Few of the variations of delta virus are also observed in omicron variant well known for increased transmissibility and immune evasion, but there are some rarely observed and not well-characterized mutations as well which have increased the concern about how dangerous it can be.
Omicron aka B.1.1.529 has multiple spike protein mutations and the "200 %" rise in cases suddenly in South Africa is being linked to omicron. The said four-fold increase in covid-19 cases in South Africa has created a new panic worldwide. Many countries have started restrictions on international travel amid this new variant.
Why this variant is causing panic?
Genomic sequencing tells that omicron has a "very unusual constellation of mutation" which means further observation and studies are needed to precisely know the characteristics of this virus. Almost 30 mutations are found in the region of spike protein and this becomes the reason to worry because spike proteins are responsible for viruses to attach and invading human cells. Few mutations have been identified earlier as well and have been known to affect the transmissibility of virus and immune evasion, but as other mutations are rare more research and studies are required to know the full significance of the mutations.
What do we know about omicron?
What is omicron? – new SARS COV-2 virus with multiple mutations.
How did it arise? – during "pandemics" there are faster circulations of viruses with high speed of infections, in such situations the chances of virus mutation increase. This happens because if the virus has to become more infectious it needs to undergo some changes to fool human immunity.
What are the countries affected till now- despite immediate and effective measures taken to stop its spread, it has spread to more than 20 countries in a very short time. List of countries affected.
How dangerous is omicron? – researchers are saying that even though it is not as dangerous as the "delta" variant, more research is needed before we call it "mild". One thing which has been seen with the arrival of this variant is its superfast spread. Despite quicker spread than other variants, the death caused by it is very few till now.
Are current vaccines effective against omicron?- despite multiple mutations in spike protein, WHO reports that current vaccines offer good protection from omicron.
Is previous covid-19 infection is going to save you?- despite limited data, evidence suggests the previous infection offers limited protection from omicron. Also, we don't know how long and how well post covid immunity will give you protection.
How fast is the spread?- till now data suggests that omicron spreads more than twice as quickly as delta
What are the signs and symptoms of the new covid Omicron variant?
Other than extreme tiredness no unusual symptoms have been reported till now. Patients have complained of intense fatigue and increased heart apart from sore throat, headache and cough. The number of cases is increasing exponentially in almost all of South Africa's provinces although few are claiming it to be as only 24% of the population is fully vaccinated in south Africa.
How to protect yourself from this New Covid Omicron variant?
WHO has announced that till further disclosure Covid Appropriate Behavior (CAB) is the only way to protect yourself even if you are fully vaccinated!  However, the Indian council of medical research (ICMR) apart from emphasizing the importance of vaccination and covid appropriate behavior has also asked people not to panic as the mode of transmission is the same as before. But there are high-ranked people who are claiming that the existing vaccine would certainly be less effective against the new variant. Here are a few of the advice to be followed till further guidelines come-
1. Follow Covid Appropriate Behavior (CAB).
2. Practice SMS, sanitization, mask, and social distancing.
3. Keep home and room ventilated.
4. Avoid crowded places.
5. People with exiting diseases like diabetes, cancer, HIV should take extra precautions.
6. Avoid travel and unnecessary hospital visits.
So, as we still don't know the exact nature of this mutation rather than panicking we all should focus on practicing CAB and SMS.