The most important and frequently asked question for a covid-19 affected individual is what will be the post-covid-19 effects and how will the post-covid-19 recovery be? Well, as nobody knows much about post-covid-19 care let us discuss some of the observed or documented ways to Recover in the right way from covid -19.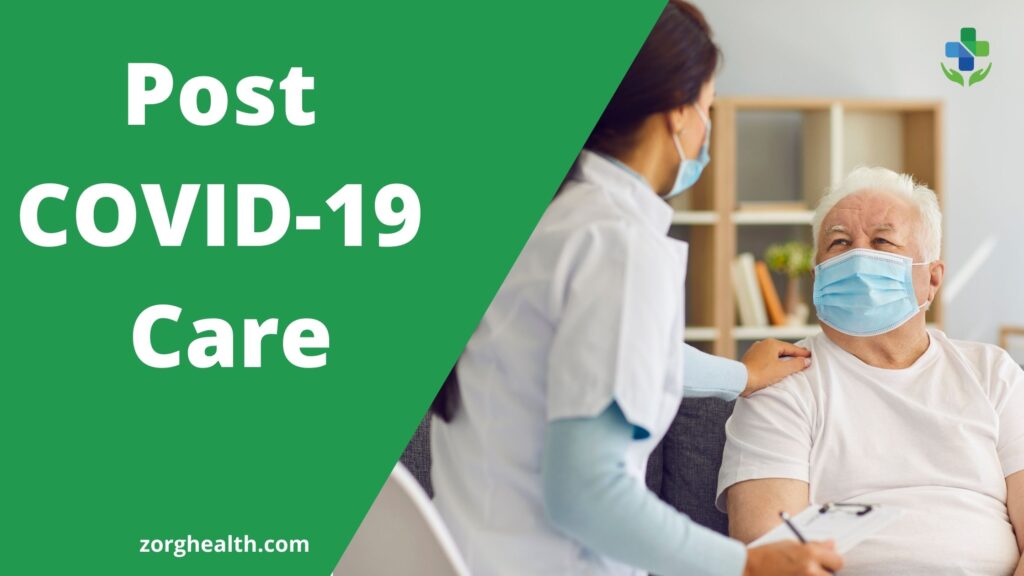 A negative covid-19 RT PCR is not enough, you need to do the maximum possible efforts to have the best possible recovery. During covid-19 illness rest, hydration and constant monitoring of vitals are the important factors to recover faster but to Recover in the right way after covid -19 there are more things that you can do.
Post covid-19 care: Things You Need To Do After Recovering From covid
Three foremost things which you should keep in mind are-
Make sure that you don't spread the virus: 
The first and most important thing is that you be in isolation and don't leave home – a covid-19 positive patient is contagious in both pre-symptomatic (that means before your symptoms start) and post-symptomatic periods. Your immune system can take up to several days to clear the virus completely from your body.
It is said that it takes approximately 10 days to become non-contagious after testing positive for covid-19. Just keeping yourself closed in a room is not a proper way of isolation, have a look at CDC's (centers for Disease Control and Prevention) guidelines for isolation–
Focus on your immunity!
It's a documented fact now that you can get reinfected with COVID-19. One strange fact is that even though covid-19 infection trains your system to fight against reinfection, unvaccinated adults were twofold more likely to get reinfected than vaccinated adults.
Researchers are still not sure about the duration of post-covid-19 immunity, but studies suggest that vaccine-induced immunity is stronger than disease-induced immunity.  So, it is advised to get yourself vaccinated.
If you were already vaccinated and still got infected with covid-19 then you should get a booster dose of the covid-19 vaccine. For an individual who is more than 16 years of age and has received complete vaccination before, the booster can be given once recommended time has elapsed from your last vaccination (which is 5 months for Pfizer, 6 months for Moderna, and only 2 months for J & J). If antibodies have been given to you as part of the covid-19 treatment you can wait for 90 days before getting a booster.
Don't overmedicate yourself! 
Like almost 2 years have been passed since covid-19 was declared a pandemic, there is significant data that shows that few of the symptoms can last longer than you think. Even if you are free from viruses completely, still fatigue, taste-related, and smell-related issues can trouble you. Don't blindly overmedicate yourselves for these symptoms. Consult your doctor for proper counseling and minimum required medication.
What will be the new normal after covid-19? Should I just live with the lingering symptoms after covid -19?
What else can be done apart from vaccination and mask?
You must be experiencing all these questions. A pandemic affects all and so we all are supposed to behave In a certain manner to fight against it. Getting infected with covid-19, vaccination, distancing, mask none of them gives you permission to live carelessly. Here are the things you should know if you or anyone near you tested positive for covid-19.
Accept and isolate – first thing is that you accept that you have the active infection of covid-19 and prepare yourself for isolation and other guidelines. Please understand the fact that testing positive (even if you don't have symptoms) means you have active multiplication of viruses inside you, making you contagious for others. What is just an asymptomatic infection for you can be very dangerous for those around you especially old age or immunocompromised individuals.
Isolation doesn't mean that you leave your house. If you share your living space with others then it is best to distance yourself from others, get a separate room for yourself, eat, sleep and use a separate bathroom.
Even in a separate room wear a mask if possible. Avoid direct contact with both members and pets. Don't share your linen or utensils. If you are sick enough, any family member can also help you for assistance, but make sure they follow the CDC guidelines.
Inform-  it is your duty to recall and inform people who came in your close contact so that they can follow necessary guidelines and get tested. This will help in reducing the transmission of covid-19. Make a list of people you met 2 days prior to symptoms or testing positive. People who were or are in close contact (distance within 6 feet for a minimum of 15 minutes) are more likely to get infected.
Consult a doctor- you can manage yourself if you have a mild infection. But it is always better to take an opinion from a doctor before self-medication. Not only it will help to reduce disease-related apprehension but also will rule out any risk factor for severity.
For asymptomatic patients, regular consultation is beneficial as you can always inform and alert your doctor about severe problems or any unusual symptoms.
Another advantage of consultation is that your doctor and local health officials will know about the burden of disease in that particular area.
Also, in case of worsening of symptoms, you will be on the priority list of urgent care.
Know the alarming signs of covid-19- keep a constant watch on the symptoms and in case of below-mentioned symptoms report immediately to hospital-
Breathing difficulty or heavy breathing
New or worsening chest pain
Intense fatigue
Mental clouding
Blue / cyanosed face
Plan your vaccination- As already mentioned unvaccinated individuals are more likely to get reinfected.
What are the long-term effects after covid-19? Post-COVID-19? Long COVID-19?
Asymptomatic or mild infections generally resolve soon, but few patients (especially old aged and immunocompromised patients) might experience symptoms even after recovery. Symptoms lasting longer than four weeks are being referred to as post-COVID-19 or Long-COVID-19 conditions. These are-
Tiredness lasting for an almost full day- post covid the most common symptom experienced is tiredness that doesn't improve with rest.
Residual shortness of breath-COVID-19 primarily affects the lungs, any kind of lasting infection or inflammation can lead to reduced lung functions and breathing issues.
Persisting depressive feeling- reviving from covid-19 illness can lead to post-traumatic stress syndrome
Pain in joints
Chronic headache
Persisting dry or wet cough
Sleep issues or concentration problems
Reduced appreciation of smell or total loss of smell or altered smell perception
The feeling of temperature or low-grade fever
Muscle strains or pains.
Apart from the above-mentioned effects, there are other "unknown" effects of COVID-19 which are being researched. Few of the topmost medical centers are opening specialized dedicated clinics to give care to people with post-COVID-19 or long-COVID-19 conditions.
What are the things to do to post covid -19? Post Covid-19 Care Chart
Diet to Recover in the right way from covid -19  – here are some of the food items which can help in speeding your recovery from COVID-19.
Almonds – high energy-yielding, rich in vitamin E, and also work as antioxidants.
Avocadoes – rich in vitamins.
Oranges – full of vitamin C, help in the process of wear and tear. Makes healing faster.
Eggs – what can be a better source of protein than eggs! Proteins are amino acids that are essential building blocks for our body.
Beans – zinc is essential for our defense system (immunity) to execute properly. And beans are rich in zinc
 Fluids- it has been emphasized strongly to stay hydrated during a covid-19 illness, as your body loses fluids while fighting with viruses. Take fluids in all possible forms like green tea, juices, etc.
Exercise to Recover in the right way from covid -19   – breathing and physical exercise will help you regain your strength faster after a covid-19 illness.
Lying prone on your belly for 30min to 2 hours daily.
Pranayama- famous ancient breathing technique.
Balloon blowing- blowing a few balloons daily will increase your lung capacity and make the recoil function better.
Warm-up exercises like brisk walking.
Fitness exercises like step-ups, jogging, cycling
Strengthening exercises like wall pushups and squats
Fatigue management–
plan your work from most important to unimportant.
Take regular breaks both mental and physical
Take weekly time off from everything
Maintain a healthy daily schedule
Stop smoking  – Smokers have a higher need for hospital admission in covid-19 illness as per studies.
Emotional wellbeing-
Stop watching depressing news
Stay connected with loved ones in whichever way possible
Enjoy your hobbies
Rest
Speak about your stress with friends, family, or physicians.
Focus on positive news and stories.
Cough management-
Drink plenty of fluids
Take steam daily
Drink preparations that soothe your throats like honey and ginger
Betadine gargle can be done for sore throat
Consult your doctor, as some medications can give you faster relief.
Stay in a humidified and well-ventilated place.
Don't panic in case you tested positive. Know your disease better to fight against it. Follow all the precautions and advices for post-COVID-19 care.