As the name suggests, whole food means that the composition of food is near to how nature made it, with little or no additives, preservatives, added sugars, or without passing them through multiple refining or processing. And thus, they contain much more nutrients than processed or refined food. Now that you know what does it mean by whole foods, you may wonder what are nutrient-dense whole foods?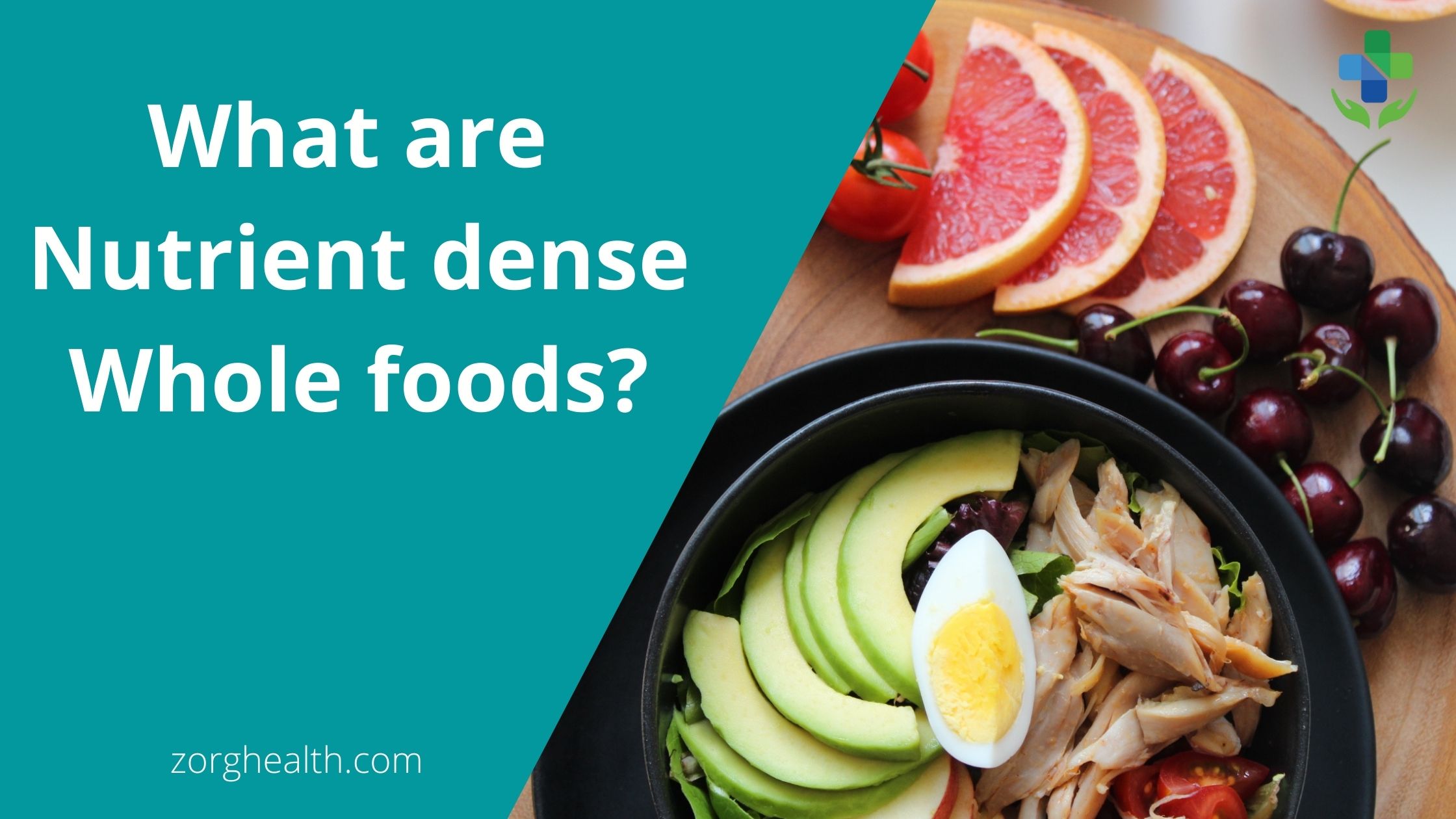 A healthy nutritious diet has enormous health benefits. Sustainability, variety, and consistency are the most important factors in any healthy diet.
Maintaining an optimal variety of nutrient levels is essential to feeling your best. Different types of nutrients serve different purposes in the body. The nutrients work best in your body when you include them in a natural way in your diet and consuming whole foods will make it more beneficial for the body.
Nutrient-dense whole foods TOC
Nutrient-dense whole foods
Nutrient-dense whole foods are those that have a high nutrient content for the number of calories that they contain and also with minimal or no food processing. Eating balanced, nutrient-dense whole foods and snacks can make you feel more assured that you're getting what you need from your diet.
To get a nutrient-dense whole food diet one doesn't need to change the dietary habit or go any extraordinary shopping, in fact choosing the best nutrient-dense whole foods is similar to how you decide for the rest of your diet.
You can daily eat only a limited amount of food. If you want lots of nutrients without many calories, the popular picked-up choice is mainly dietary supplements. However, supplements cannot replace the amount and variety of nutrients one gets from nutrient-dense whole foods.
Health Benefits of Nutrient-Dense Whole Food
Due to the following health benefits of nutrient-dense whole foods, they should be the basis for all meals and snacks in your diet.
Promotes better control of blood sugar, cholesterol, and blood pressure.
Minimizes the cell damage that may lead to heart disease, cancer, and many other conditions.
Lowers the risk of many serious diseases such as dementia, depression, eye diseases, and many other common health conditions.
Boots the immune system with the nutrient package including proteins, vitamins, minerals, carbohydrates, fiber, healthy fats, antioxidants, etc.
Promotes weight loss for people aiming to cut down on weight.
Acts as healthy alternatives to high-calorie foods.
Increases the amount of nutrition per calorie.
Improves digestion, productivity, and metabolism.
Boosts mood by feeling good and healthy.
Enhances antibacterial, antifungal, and antioxidant properties in the body.
Lowers risk of life-threatening diseases by fighting infection and lowering inflammation.
Be mindful of the following
Include a variety of healthful choices of ingredients in your diet to maximize the number of nutrients you take in. The greatest healthful diet includes eating a diversity of nutrient-dense whole foods from all major food groups.
Choose seasonal and colorful fruits and vegetables to get the best out of them. Go for the dark greens, orange, red-colored fruits, and vegetables for maximum types of nutrients.
Avoid processed and tinned foods as it changes the nutritional value of the foods.
Check the nutritional label of the premade foods to be aware of the sugar or fat contents before consuming them, and chose the one with minimum or no additives at all.
Take a nutrient-dense diet composed primarily of whole foods
Meet your nutritional needs even when you're eating
Switch preference for food items — veggies over chips, lettuce wraps over sandwich bread, baked sweet potato fries over regular fries, brown rice over white rice, whole grains over polished grains.
Examples of Nutrient-Dense Whole Foods
There are plenty of affordable nutritious superfoods you can purchase that are healthy and easy to add to your diet.
Nutrient value: Rich in powerful nutrients like vitamins, proteins, carbohydrates, healthy fats, energy sources, minerals, calcium, potassium, copper, manganese, selenium, Omega-3 fatty acids, and many others.
Daily usage options: The main dish, topping on salads, snacks, smoothies, soups, stir-fries, and side dishes.
Vegetarian nutrient-dense superfoods
Best choice – Unsalted nuts and seeds, sweet potato, carrots, beans, legumes, variety of berries, whole grains, dark green veggies, leafy green veggies, quinoa, kale, pumpkin, garlic, cocoa in dark chocolate, broccoli, dandelion greens, tropical fruits.
Other great options – Spinach, avocadoes, oats, brown rice, green cabbage, squash, ragi, bananas, tomato, pumpkin, kiwi, chives, seaweed, onions, yogurt, cheese.
Non-Vegetarian nutrient-dense superfoods
Best choice – Variety of fish like salmon, sardines, oysters, etc., lean meat, egg yolk, organ meat like liver.
Other great options – Shellfish like mussels, scallops, chicken breast, pork.
The Bottom Line
Developing a habit of healthy eating and also making a healthy relationship with food takes some time.
Nutrient-dense whole foods are closely linked to a number of health and environmental benefits. They are high in nutrients like vitamins, minerals, protein, fiber, and healthy fats. They include fruits, vegetables, seeds, beans, nuts, chicken, and fish.
For people struggling with food, body image, or health concerns, it's critical to get the timely and right help to start living a happy and healthy life. Regularly consuming nutrient-dense whole foods can reduce the risk of various chronic health conditions, such as heart disease and diabetes.
By including nutrient-dense whole foods in your diet, you create sustainable, nutritious eating patterns and healthy lifestyles that help you feel at your best.
Making this slight change in your life may significantly improve your health. Therefore, begin adding the above foods to your diet today to reap their benefits.