Covishiled Vs Covaxin: India's Covid Vaccine Comparison
India's covid vaccine drive has been started on 16th January 2021. There are two vaccines that get government approval one is Covishield from the serum institute of India and the second one is Covaxin which is 100% indigenous from Bharat biotech Ltd.
Below is the detailed comparison of Covishield vs Covaxin and how effective are their results –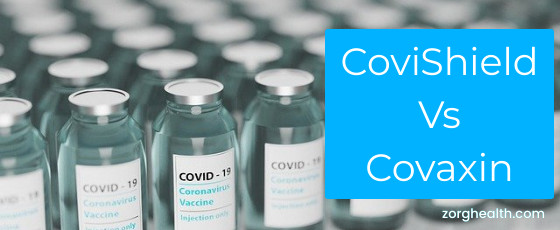 Firstly, what is a vaccine and how does it work?
It was Sir Edward Jenner in 1796 when he made a vaccine made from the cowpox virus and named it vaccinia. The Word vaccine comes from the Latin word "Vacca" meaning cow.
The vaccine is a substance containing a safer (lab modified, attenuated, or dead) form of a disease-causing agent, in response body produces antibodies that give us immunity against that particular disease. During the current corona pandemic, many countries are working on vaccine production and so is India.
Compare: CoviShield Vs Covaxin
Covishield
This particular vaccine on the other hand has been developed by UK-based company AstraZeneca and the university of oxford. Pune-based serum institute is an Indian partner with AstraZeneca and has developed Covishield. Unlike Coaxin, Covishield has been developed from another virus known as adenovirus. Adenovirus was not killed here but weakened and modified (to behave like covid-19) so that it can not replicate inside the body after administration.
And just like Covaxin, Covishield also trains the immune system to acknowledge the spike protein of SAR-CoV-2 and produce antibodies against it, after which the virus cannot enter the human cell.
Covaxin is being administered as under clinical trial, but both companies need to submit data every 15days for the next two months. Covaxin has been given monitored approval which ensures that India has additional protection against the mutating strains of SAR-SCoV-2.
After a government conducted dry run, both vaccines will be supplied to more than 30 vaccination hubs in India. The targeted population will be receiving the vaccines first, healthcare personnel, people on emergency duties, people above 50, and people with comorbidities.
The vaccine will be administered in two doses with an interval of 4-12 weeks and the storage temperature for both vaccines shall be between 2-6 degrees Celsius, which is actually easier to maintain while distribution and transport.
Covaxin
India makes approx. 60% of the world's vaccine. Bharat Biotech, a 24 years old company in association with ICMR and NIV has developed our first homegrown vaccine supported by the Indian government, "Covaxin". Covaxin contains killed micro-organisms (inactivated SARS Cov-2) and as explained earlier when administered our body recognizes the dead virus particles and in response, the body starts making antibodies.
The inactivated vaccine also assures that that the vaccine itself can't infect that individual and neither it can replicate inside the body.
As per schedule, two doses are supposed to be administered intramuscularly at an interval of 4 weeks. Any vaccine gets its approval for use only when the drug regulator is satisfied with the trial which is based on two parameters safety and immunogenicity.
The human safety of any vaccine is declared after evaluating all the side effects and allergies. Immunogenicity refers to whether the vaccine is capable enough to generate efficient active production of antibodies against the targeted pathogen.
Now, many of us can question how a vaccine, which is still under trial is given a green signal for its use. The efficacy data for this vaccine is still awaited and claimed to be provided by February 2021, but as per Indian clinical trial laws it has been given authorization for use under "unmet medical needs of serious and life-threatening diseases in the country" which can be given just after the second phase of the trial.
In India, vaccines are approved by new drugs and clinical trial rules, 2019. After running the trials under these rules data is shared with Central Drugs Standard Control Organisation (CDSCO). But this data (Indian trial) is not yet published for both Covaxin and Covishield. As per the ministry, all Covaxin recipients are to be tracked and monitored just like any clinical trial. And guidelines have to be followed strictly in case of any minor or major side effects.
How effective are CoviShield Vs Covaxin?
As already mentioned the data regarding both Indian vaccines is yet to come into the public domain, but international clinical trial data of AstraZeneca covid-19 vaccines showed 90% effectiveness. As during the trial first half and then the full dose was administered it is not clear whether to approve half or a full dose.
In fact, although unpublished some data showed longer intervals increased the effectiveness of vaccines. Covishield has been claimed to be highly effective by serum institutes based on clinical data from Brazil and UK phase 3 trials.
Are Covishield Vs Covaxin are being exported too?
Yes, Bhutan, Bangladesh, Nepal, Maldives, Myanmar, Brazil, and Seychelles have already received vaccine shipments from the serum institute after signed agreements.
What are the other vaccine options?
Other vaccine candidates in different stages of trials are-
ZyCov-Di (Zydus-Cadila, Ahmedabad)

HGCO 19, India's first mRNA vaccine (by Pune based Genova and Seattle based HDT biotech corporation)

Nasal vaccine (Bharat Biotech)

Sputnik V (Dr. Reddy's lab and Russia based Gamaleya national center)

The second vaccine by serum institute and America based Novavax

Vaccine by Hyderabad-based biological E in collaboration with two more foreign companies.
What are the other vaccines being administered across the globe?
There are four major vaccines being administered after approval-
Oxford-AstraZeneca- genetically modified and 62-90 % effective.

Moderna (America)- RNA vaccine and 95% effective

Pfizer-BioNTech-Again RNA vaccine and 95 %effective.

Sputnik V, Gamaleya- genetically modified and 92% effective.
Among these four Pfizer-BioNTech needs extreme storage conditions (-70C).
The Indian government has requested to register for vaccine administration via Cowin application and wait till your turn comes. As people can't choose between Covishield and Covaxin the common cost range for both vaccines is between 212-292 rupees($3 to 4) which might double up once the sale is open for the private market.